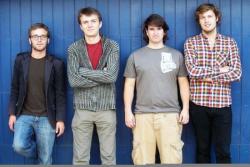 The award-winning Mercury Quartet comprises 4 rising stars of the UK's contemporary music scene: Vlad Maistorovici (violin/viola), Corentin Chassard (cello), Harry Cameron-Penny (clarinets) and Antoine Francoise (piano/sax).
Performing either as a quartet or alongside internationally renowned guest artists, they perform classic works of the 20th century alongside their own live-composed music, new commissions and unknown masterpieces.
In the Summer of 2010, the Mercury Quartet has been resident ensemble at Dartington International Summer School. November will see the launch of their debut album MERCURY ACOUSTIC, released at Nonclassical and distributed by Select and Naxos in the UK, USA, Japan, Germany and Holland.
OFFICIAL WEBSITE BIOGRAPHY REPERTOIRE WORKSHOP