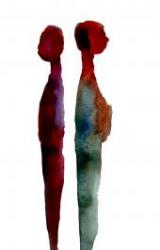 Fusing engaging electronic beats with volatile string textures, Partial Gathering make musical paint and throw it around with recklessabandon. This cello and laptop duo are the hunter gatherers of newsounds in a violent aural killing field. This is not pushing boundaries but denying them!
www.myspace.com/partialgathering soundcloud.com/partial-gathering
Less than one year since their formation, Partial Gathering have already appeared atsome of London's most cutting edge and prestigious new music events. Making theirdebut performance at the National Portrait Gallery, the pair was then invited by theinfamous Oubliette Art Collective to perform at their Home is where your art is exhibitionin Mayfair. Not content to restrict their music to seated audiences, they are taking theirnew brand of contemporary classical electronica to club venues.
Renowned cellist, Gabriella Swallow, selected the pair to perform at Strung Out inassociation with Music Orbit at The Vibe Bar and they were invited to play atResonance FM's Rockfort club night at Café Oto. Other previous shows include the Royal College of Music, The Forge and Gabriel Prokofiev's Nonclassical Club, The OldVic Tunnels and Alphaville Festival at Whitechapel Gallery